Breeders of smooth dachshunds AKC conformation show prospects, incredible lifetime pets and field trial prospects.

AKC Field Trial Judge for dachshunds #71240 
Member of Mission City Dachshund Club of San Antonio
Member of Dachshund Club of America
CHECK US OUT ON FACEBOOK
HIDDEN CEDARS AKC MINI SMOOTH DACHSHUNDS
NUMBER 33 Conformation CH .. CH Hidden Cedars Like Father Like Son MS, Rep finished with FOUR MAJORS.. two majors being 5 pt from Specialties..
ABS FC Ziggy Stardust Of Hidden Cedars MS, Ziggy went Absolute in hot dry conditions by defeating his mother ABS FC Hidden Cedars Lookin 4 Trouble MSP, Trixie in Field CHampion stakes and then his littermate brother from the OD class Zephyr Thru Hidden Cedars MS.. WOW what an incredible accomplishment for these great dogs. HUGE CONGRATS TO ALL that made this truly a day I will never forget.
Zephyr Thru Hidden Cedars MS, Zephyr bred by Lori Isaacson /Gloria LaTour and owned by Ed and Val Higginbotham went FIRST out of 12 at MCDC of SA field trial and ran for Absolute.  WHAT A GREAT TIME.. HUGE CONGRATS.. HE is so close to being a DUAL with both his conformation majors..WTG Team Zephyr..
WE SELL REALLY NICE SHOW PROSPECTS AS WELL…
HIDDEN CEDARS I HOPE YOU DANCE ML, LEE ANN co owned with Wendy McQuiston from the 6-9 puppy class went BEST OF VARIETY over 7  specials for a 4 point major in Glen Rose, TX under Gary Doerge..  WTG..
HIDDEN CEDARS 4 TELL THE FUTURE MS, CRISTAL co owned with Jana Rodes went W/BW for a 4 point major in Glen Rose, TX under Gary Doerge… WTG.. Cristal another 4 point major under Ed Bivin in Alexandria, LA… gonna be done in no time!!
Great future in store for these two beauties.
Female mini dachshund smooth and red brindle smooth male AVAILABLE.  Black tan longhair female available.
ONE BLACK TAN LONGHAIR MALE 
Red brindle female adult available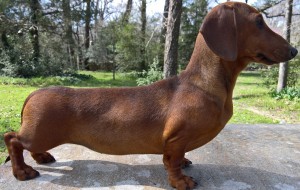 Hidden Cedars Sudden Inspiration MS