Breeders of smooth dachshunds AKC conformation show prospects, incredible lifetime pets and field trial prospects.

AKC Field Trial Judge for dachshunds #71240 
Member of Mission City Dachshund Club of San Antonio
Member of Dachshund Club of America
NUMBER 37 AND NUMBER 38 Hidden Cedars FIELD CHAMPION FINISHED at the Central Ohio Dachshund Club Field trials the same day 9-23-16… FC Hidden Cedars Written N The Stars MS, Mystique and FC Hidden Cedars Bookend Here MS, Louise… BOTH daughters of DC Add-Sims Something 2 Talk About MS ROM… his 17th & 18th CHampion get
ABS DC Hidden Cedars Sudden Impact MS, Jolt finished with 2 first placements and an Absolute for our 30th Field trial Champion. He also finished his conformation title with 3 majors and a Best Bred By in show at DFWDC Specialty and our #15 Bred By Exhibitor CH and our 29th Conformation CH.   He has been so much fun to show.  He has also natural sired a litter that is also going to be shown.
  Ranked #5 …
THANK YOU LORI ISAACSON AND JANGO..GREAT JOB DONE WELL.
FC Hidden Cedars Jango Bling MSP,  Jango at 10 years young goes SECOND at the Top 20 Field Trial Invitational in Ohio… HUGE CONGRATS to Lori Isaacson for her wonderful work with Jango and for Jangos' perseverance … YAHOOOOO
CONGRATS also to Lori Isaacson and NEW DC Hidden Cedars Hot Rod Lincoln MS, Lincoln..

Red smooth mini dachshund male available. Red smooth mini female available Updated 9-08-16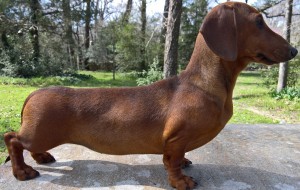 Hidden Cedars Sudden Inspiration MS
We live in Huntsville, Tx and welcome inquires about our wonderful mini smooth AKC dachshunds. Contact Gloria LaTour 936-344-8852 or email at glatour@dachshundpups.com